Close to 20,000 Cannabis Fans Expected September 29 – October 1 at New Jersey Expo Center in Edison, NJ

EDISON, N.J. - Aug. 14, 2023 - PRLog -- After becoming the largest BYOC (Bring Your Own Cannabis) consumer convention in the Northeast last year, 420 Expo is set to return to the Garden State, September 29 through October 1, at the New Jersey Convention and Exposition Center in Edison, NJ. This year's event will be guest hosted by legendary actor, cannabis activist, and art collector, Cheech Marin, and is expected to draw an even bigger crowd than last year's 17,000+ attendees. Details and tickets are available on the event's website, 420Expo.com, and attendees must be 21+.

420 Expo, sponsored by Wakit Grinders, is a three-day celebration of the legal marijuana lifestyle. Visitors will enjoy a stigma-free vibe with live entertainment, celebrity appearances, cool vendors, and educational seminars inside the Expo Center. Outside, a large outdoor smoking section and a wide variety of food trucks will ensure attendees can get in a great mood while eating great food. (THC products will not be sold at 420 Expo, however attendees may bring the legal limit for personal use specified by the state of NJ.)

"Despite last year's legalization of adult use (recreational) marijuana in NJ, there still isn't enough tolerance," said Dan Davis, co-founder of 420 Expo. "A primary goal of 420 Expo is to remove the stigma surrounding cannabis, and it's a bonus that we get to have a blast achieving that goal."

"I am excited to be the guest of honor for this year's 420 Expo, and to celebrate legal marijuana in New Jersey," said cannabis icon Cheech Marin. "It's definitely going to be a heck of a party and I'm stoked to smoke and to be a part of it."

Cheech headlines a list of cannabis-friendly celebs who are scheduled to appear and be available for photos, autographs, and meet and greets at 420 Expo. Some will even be available for "Smoking Sessions" and other VIP experiences.

420 Expo's 2023 three-day BYOC canna-fest will include:
VIP Meet & Greets with the legendary Cheech Marin, Friday and Saturday
Guest appearances by other cannabis-related celebrities, including Jason Gann ("Wilfred"), Jason London (Dazed and Confused), Jeremy London (Mallrats, "7

th

Heaven"), Nicholas Turturro ("NYPD Blue," The Longest Yard, I Now Pronounce You Chuck & Larry), Rachel True (Half Baked, The Craft), Shawna Waldron (Little Giants, The American President, "Ladies Man"), Keith Coogan (Don't Tell Mom The Babysitter's Dead, Toy Soldiers, Adventures in Babysitting), professional wrestling legends The Sandman and Blue Meanie, activist and champion racecar driver, Randy Lanier, and Troma Films characters "The Toxic Avenger" and "Sgt. Kabukiman," among others
420 Expo's Entertainment Stage featuring live performances, interactive events, and more – plus live music and DJs throughout the event
Over 100 vendors from the cannabis world and beyond (no on-site THC sales)
20+ seminars and panels appealing to both casual and experienced cannabis enthusiasts
Outdoor smoking section (BYOC) with plenty of food trucks, music, and games
Glass blowing, axe throwing, iconic cars from movies, product demonstrations, gaming areas, and more
Rolling Contest and other games and competitions
Extreme people watching!
"We are honored to welcome the one-and-only cannabis legend Cheech Marin to our second annual 420 Expo, and we invite all adults 21 and older, from the curious to connoisseurs, to come out and shine a light on the growing cannabis community," said J. Handy, co-founder of 420 Expo. "We were blown away by the sheer number of attendees last year, so we're raising the bar even higher. This year, visitors can expect an even stronger lineup of live entertainment, seriously cool vendors, more celebrity guests, and a bunch more surprises."
420 Expo at the New Jersey Convention and Exposition Center in Edison, NJ will be open to the public:
Friday, September 29, 5pm – 11pm (ribbon cutting by Cheech Marin)
Saturday, September 30, 12pm – 9pm
Sunday, October 1, 12pm – 6pm
To learn more about the 420 Expo performance lineup and to purchase advance tickets to this 21+ event, go to
420Expo.com
.
Contact
The S3 Agency
***@thes3agency.com
Photos: (Click photo to enlarge)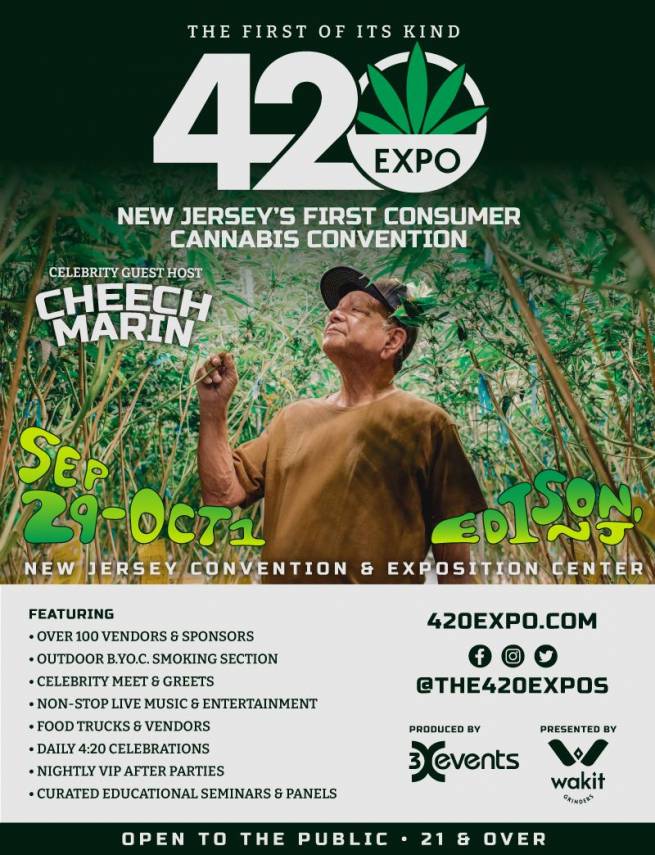 Source: The S3 Agency
Read Full Story -
420 Expo, the BYOC (Bring Your Own Cannabis) Event, Returns to NJ with Guest Host Cheech Marin
|
More news from this source
Press release distribution by PRLog