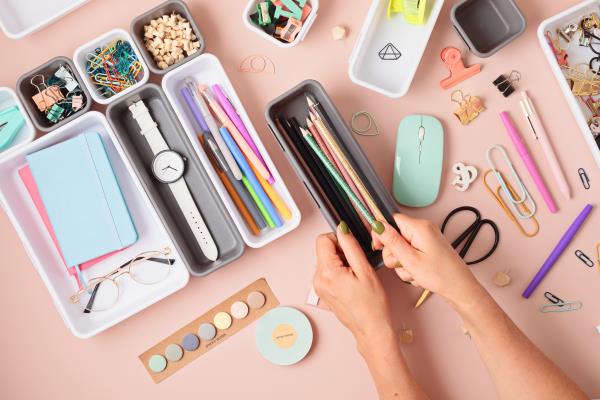 SPONSORED CONTENT -- (StatePoint) Want to help guarantee your child's academic success? While you can't control what goes on in the classroom, you can facilitate their study time at home by setting up an A+ workstation. Here's how:
1. Choose a location: Select a location that's well-lit, preferably with some natural light, and away from noise and distractions. Whether it's your child's bedroom or a corner of the dining area, the area should be large enough for all their supplies and tech to stay organized.
2. Use color wisely: Research has shown that certain colors have the power to boost productivity and creativity or promote a sense of calm. Decorating the space with care could potentially help your student weather crunch periods with ease. You may also opt to color code binders, dividers and other supplies by coursework so that your child can quickly identify the items they need.
3. Update tech: Equip the workstation with the latest technology and educational tools. For easy essay composition, your child's suite of devices should include a tablet or laptop and a printer. To get your student prepped for math and science classes, be sure to supply them with a graphing calculator featuring the latest capabilities. The fx9750GIII, for example, is not only stylishly available in trending colors, it's capable of programming in CASIO Basic and MicroPython. Python files are easily stored and transferred via USB to a computer. With graph and statistical functions, exam compatibility mode and a suite educational resources, your student will be well prepared to take on all their STEM coursework and test prep.
4. Prevent clutter: Clutter can pile up all too easily, making it difficult to find notes and assignments. Keep the mess to a minimum with the addition of a few organizational tools. Hang a corkboard to post reminders and to-do lists. Add wall shelving or a sorting tray to keep papers filed by subject area or due date, and use small baskets or cups to collect erasers, paper clips and other small supplies. Finally, be sure the workstation has its own waste bin, so that items that are no longer needed can be efficiently tossed or recycled.
5. Consider ergonomics: Eliminate distractions by making sure the workstation is ergonomic-friendly and comfy. If your child sits at a desk, ensure their computer monitor is at eye level and that their feet touch the floor. Adjustable laptop tables can transform a makeshift work area on the couch or bed into a comfortable workstation.
By setting up a dedicated homework area designed for productivity, you can help your student make the grade.
Photo Credit: (c) netrun78 / iStock via Getty Images Plus