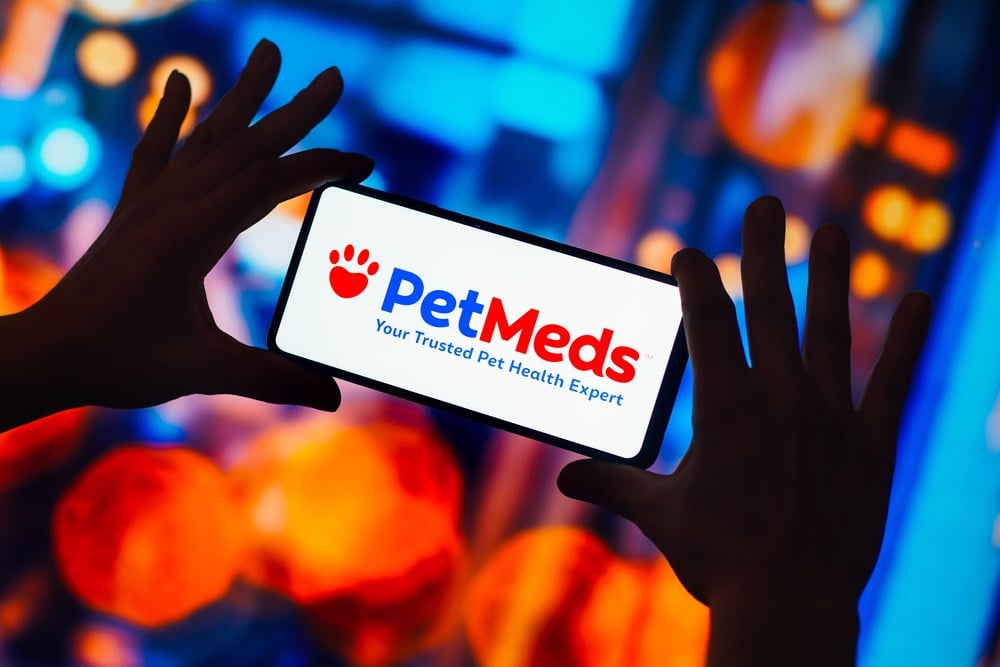 Is it worth taking a flyer on a stock that's not currently showing much, if any, price potential, as Wall Street expects an earnings turnaround?
Everyone wants to get in early, but there's such a thing as buying too early. If you think a stock has promise, that doesn't mean you should buy immediately; you may find yourself in the situation of trying to catch the proverbial falling knife. 
The stock in question is PetMed Express Inc. (NASDAQ: PETS), which is down 13.84% year-to-date. 
PetMed Express, also known as 1-800-PetMeds, is an online pet pharmacy that sells prescription and non-prescription pet medications, pet supplies, and accessories. 
Long-Tail Price Decline
The stock made two rally attempts in 2021, but since then, the price has been on the decline. You can easily see that price drop on the PetMed Express chart. 
The stock tumbled 5.87% on August 1 after the company's fiscal first-quarter earnings report. 
Both the top and bottom lines came in below views, which you can spot on MarketBeat's PetMed Express earnings page. 
It marked the fifth quarter in a row with earnings falling short of expectations. Revenue has also come in below views in several recent quarters. 
The company lost 4 cents a share in the first quarter. Wall Street had expected earnings of 9 cents a share. 
Company Has Remained Profitable
The company has a solid history of yearly profitability. 
So most of that sounds pretty bad. Where's the upside here? None of that sounds very promising. So what are analysts seeing? 
For starters, revenue was up 11% in the first quarter, marking the first time in eight quarters that year-over-year revenue grew. 
Earnings declined in 2022 and fiscal 2023, but Wall Street sees earnings growth rebounding in fiscal 2024 and 2025. 
Some clues of what could be ahead were found in the quarterly report. Results included:
 A 25% increase in new customers year-over-year, representing the third consecutive quarter of new customer growth. This includes new customers from PetCareRx, which was acquired in April.
Increased gross profit and other income were offset by higher general and administrative expenses and higher advertising expenses.
"This quarter's performance is a pivotal step in our Company's transformative path," said CEO Matt Hulett in the earnings statement. "After over two years of declining revenues, we have successfully achieved year-over-year growth in our top line." 
Recurring Revenue Drives Results
Hulett added that 49% of total revenue was derived from recurring sources such as AutoShip subscriptions and PetPlus membership programs. 
"The acquisition of PetCareRx has unlocked tremendous growth opportunities, allowing us to expand our product catalog and capitalize on synergies between the two," he said. 
The PetCareRx acquisition is just the latest in a series of transactions showing that one way the company aims to grow is through acquisition. 
With the acquisition of PetCareRx, the company gained an approximately 10,000-item catalog and about 286,000 customers. In regulatory filings, the company said the acquisition allows it to expand more rapidly beyond its historical core offering of pet prescriptions and into more extensive offerings of premium food, supplements, treats, and other pet supplies. 
The company also has a pet insurance partnership with Pumpkin Insurance Services and a pet telemedicine partnership with Vetster Inc.
Analysts Say "Hold"
PetMed Express analyst ratings show a consensus view of "hold," a signal that Wall Street sees the potential for rising sales and earnings. The consensus price target is $18.50. That's not trivial: That number represents an upside of 34.16%, which indicates that analysts expect a turnaround in the next 12 to 18 months. 
Keep in mind: Analyst coverage is sparse, given the company's price and earnings travails, and tiny market capitalization of just $29 million. 
So how should you handle this stock?
There does seem to be reason to believe a turnaround isn't that far off, given what analysts see, and given the CEO's remarks. 
But that doesn't mean today is the day to hit the "buy" button on this risky stock.
Watch For Uptrend Before Buying
It's best to keep an eye on it. Watch to see if the price can sustain an upward trend. The 200-day moving average is currently above the shorter-term 50-day line. As the stock turns higher, which is likely to happen, at some point, watch for the 50-day line to cross higher than the 200-day line. That's often a precursor to further gains.
Until then, it's OK to keep the stock on a watch list, but avoid believing you should catch the absolute bottom of the downtrend and buy at exactly the right time. That's essentially impossible to do, and not worth the risk.