TORRANCE, Calif., Sept. 14, 2023 (GLOBE NEWSWIRE) -- Navitas Semiconductor (Nasdaq: NVTS) announced participation at the International Conference on Silicon Carbide and Related Materials (ICSCRM) 2023, to be held in Sorrento, Italy.

The ICSCRM conference fosters collaboration and knowledge sharing among the brightest minds in the field. The conference has a rich history dating back to its inaugural meeting in 1987, evolving into a premier global forum for in-depth technical discussions on all aspects of SiC and related materials.
GeneSiC™ power devices, optimized for high-power, high-voltage, and high-reliability SiC applications, address critical markets including electric vehicles, solar energy, energy storage, industrial applications, data centers, and consumer electronics. With an unmatched voltage range spanning from 650 V to 6.5 kV, GeneSiC MOSFETs and Schottky MPS™ diodes have been at the forefront of SiC technology advancement, offering performance and efficiency that pave the way for a more electrified and sustainable future.
Navitas Semiconductor will present two paper sessions at ICSCRM 2023:        
"New Generation SiC MPS Diodes with Low Schottky Barrier Height"
Aditi Agarwal, Siddarth Sundaresan, Jaehoon Park, Vamsi Mulpuri, Kailun Zhong
Monday, September 18th, 7:10pm, and
"650 V SiC Power MOSFETs with Statistically Tight VTH Control and RDS(ON) of 1.92 mΩ-cm²"
Jaehoon Park, Siddarth Sundaresan, Aditi Agarwal, Vamsi Mulpuri, Nathaniel Walsh and Steven Smith
Monday, September 18th, 7:40pm.
Additionally, Navitas' SVP of SiC Technology & Operations, Dr. Sid Sundaresan, will be chairing the session on Thursday, September 21st, from 11:00am to 12:30pm. The session, titled "Devices 4: Short circuit, avalanche and reliability," will focus on crucial topics in the field of SiC technology.
"Navitas' presence at ICSCRM 2023 is a testament to the company's unparalleled expertise in SiC technology and its commitment to driving innovation in the industry," said Dr. Ranbir Singh, Navitas EVP for the GeneSiC business line. "As a pioneer in the field, we continue to extend the boundaries of SiC technology, revolutionizing power semiconductors with cutting-edge GeneSiC™ technology."
About Navitas
Navitas Semiconductor (Nasdaq: NVTS) is the only pure-play, next-generation power-semiconductor company, founded in 2014. GaNFast™ power ICs integrate gallium nitride (GaN) power and drive, with control, sensing, and protection to enable faster charging, higher power density, and greater energy savings. Complementary GeneSiC™ power devices are optimized high-power, high-voltage, and high-reliability silicon carbide (SiC) solutions. Focus markets include EV, solar, energy storage, home appliance / industrial, data center, mobile and consumer. Over 185 Navitas patents are issued or pending. Over 100 million GaN and 12 million SiC units have been shipped, and with the industry's first and only 20-year GaNFast warranty. Navitas was the world's first semiconductor company to be CarbonNeutral®-certified.
Navitas Semiconductor, GaNFast, GeneSiC and the Navitas logo are trademarks or registered trademarks of Navitas Semiconductor Limited and affiliates. All other brands, product names and marks are or may be trademarks or registered trademarks used to identify products or services of their respective owners.

Contact:
Stephen Oliver, VP Corporate Marketing & Investor Relations, ir@navitassemi.com.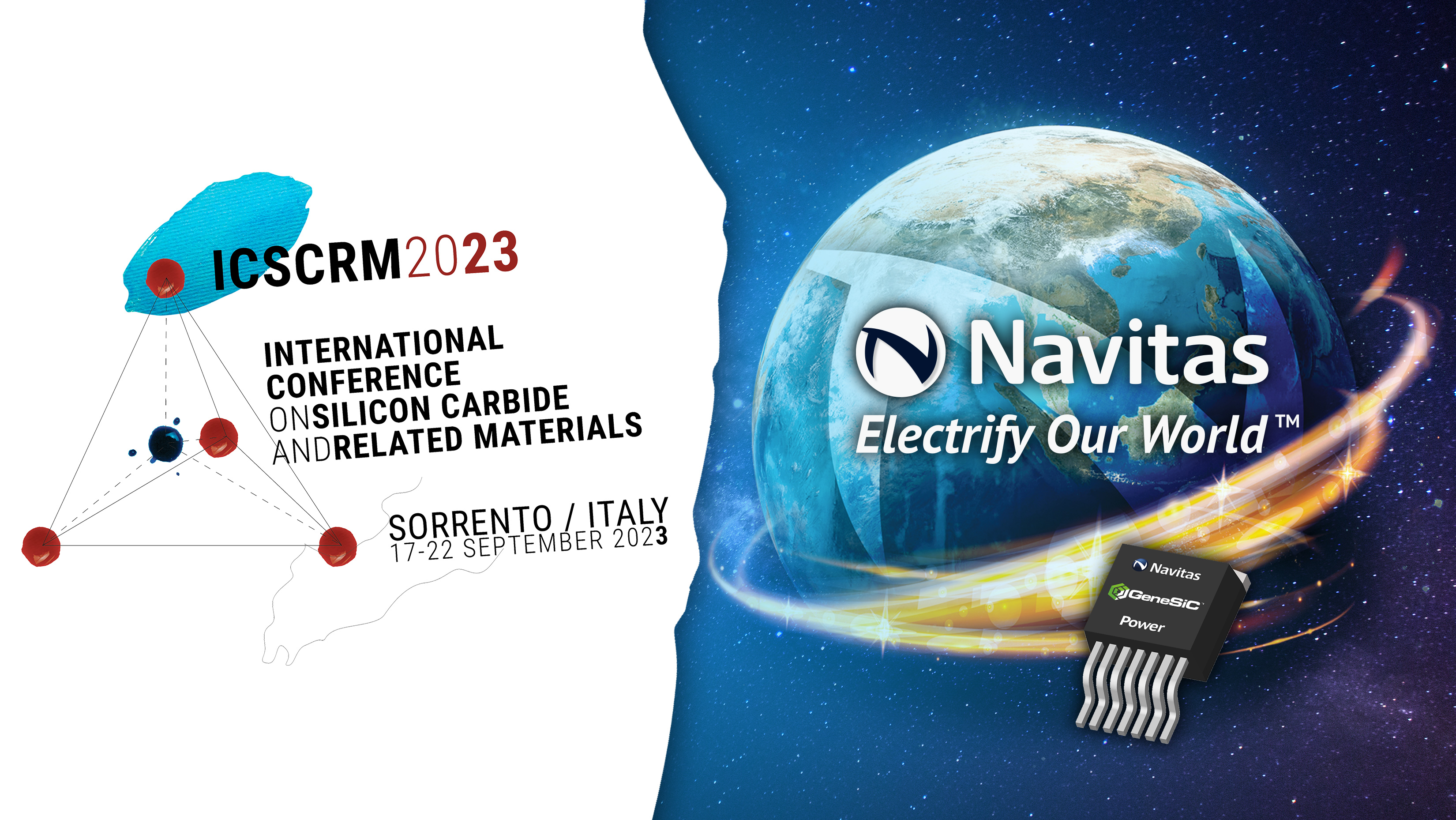 A photo accompanying this announcement is available at https://www.globenewswire.com/NewsRoom/AttachmentNg/6e13951b-79db-4a79-93c3-3f4de5861961