FORT WORTH, TX - In the vibrant heart of Texas, where traditions meet modernity, TCU Florist & Flower Delivery stands tall as a testament to timeless elegance and floral artistry. Established in 1946, this iconic establishment has woven itself into the fabric of Fort Worth's history, becoming an integral part of its community's celebrations, milestones, and memories.
Located at 3131 S University Dr, Fort Worth, TX 76109, TCU Florist & Flower Delivery has been the epitome of sophistication and innovation in the world of floristry. For over seven decades, they have been the trusted choice for those seeking to make moments memorable through the language of flowers. From the radiant colors of anniversary bouquets to the calming whites of condolence arrangements, every floral piece crafted here is a symphony of nature's beauty and human creativity.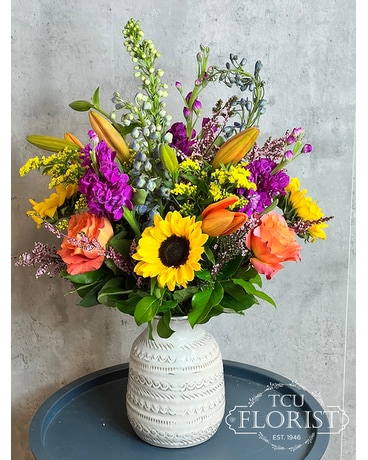 The recent enhancements to their digital platform reveal an array of new floral collections, meticulously curated to cater to the diverse tastes and occasions of the Fort Worth community. Be it a joyous celebration, a solemn event, or just a gesture to brighten someone's day, TCU Florist & Flower Delivery ensures that every emotion finds its perfect floral expression. Their revamped website offers a seamless browsing experience, allowing customers to effortlessly select, customize, and order their preferred arrangements.
A standout hallmark of TCU Florist & Flower Delivery is their unwavering dedication to freshness and quality. By forging strong ties with premier suppliers, they guarantee that every bloom that adorns their arrangements is of unparalleled quality. This commitment shines brightly in their exclusive floral collections, characterized by longer, robust stems and blooms that radiate vibrancy.
In today's dynamic world, where time is of the essence, TCU Florist & Flower Delivery offers prompt same-day delivery services throughout Fort Worth. For patrons beyond the city's confines, their extensive network of trusted floral partners ensures that every bouquet reaches its destination, nationwide, in pristine condition.
However, beyond the flowers and the services, it's the passion that truly defines TCU Florist & Flower Delivery. Each arrangement is a labor of love, a blend of age-old traditions and contemporary design philosophies. Their team of seasoned florists pours their heart and soul into every creation, ensuring that they not only look exquisite but also resonate with the emotions they are meant to convey.
TCU Florist & Flower Delivery continuously reflects on its humble beginnings to the present day. It remains unwavering in its mission to touch lives through the timeless beauty of flowers. This flower shop remains grateful and humble despite being in the floral industry for decades, harboring not just the trust of its patrons, but also the entire community. They keep to their promise of remaining steadfast, providing unparalleled quality, creativity, and a touch of magic with every petal.
For those keen to explore the latest floral masterpieces from TCU Florist & Flower Delivery or to delve deeper into their illustrious journey, a visit to their website or a call at (817) 924-2211 is highly recommended.
About TCU Florist & Flower Delivery:
Since its inception in 1946, TCU Florist & Flower Delivery has been a beacon of floral innovation in Fort Worth. With a legacy that spans over seven decades, they have been the preferred choice for countless individuals seeking to elevate moments with the enchantment of flowers. Their unwavering commitment to quality, artistry, and customer delight has solidified their reputation as pioneers in the realm of floristry.
https://youtu.be/Z51NSw9z-5o
###
For more information about TCU Florist & Flower Delivery, contact the company here:

TCU Florist & Flower Delivery
tcuflorist@yahoo.com
+18179242211
https://www.tcuflorist.com/
TCU Florist and Flower Delivery
3131 S University Dr
Fort Worth, TXFort Worth, TX
76109, USA