--News Direct--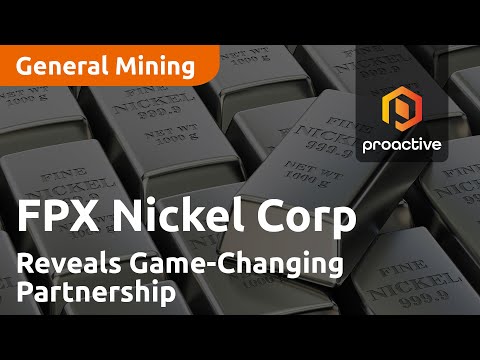 FPX Nickel CEO Martin Turenne joined Steve Darling from Proactive to share news the company has shared significant news that the company has signed a non-binding memorandum of understanding with the Japan Organization for Metals and Energy Security and Prime Planet Energy & Solutions, a joint venture between Toyota Motor Company and Panasonic Corporation.
Turenne explained that this memorandum of understanding outlines collaborative opportunities for the vertical integration of nickel production, spanning from the development of FPX's Baptiste Nickel Project to the production of nickel sulphate and cathode active materials for the Prime Planet Energy & Solutions supply chain.
The collaboration will involve the sharing of technical information and expertise, as well as the exploration of potential strategic arrangements and business structures.
This partnership has the potential to provide FPX with additional funding, which will be instrumental in advancing the Baptiste Project. Specifically, the funds would support the preparation of a feasibility study and various activities related to the environmental assessment and permitting processes.
Overall, this memorandum of understanding represents a significant step forward for FPX Nickel, positioning the company at the forefront of the nickel supply chain and enhancing its ability to contribute to the growing demand for nickel in electric vehicle batteries and renewable energy technologies.
Contact Details
Proactive Investors
+1 604-688-8158
na-editorial@proactiveinvestors.com
View source version on newsdirect.com: https://newsdirect.com/news/ceo-martin-turenne-reveals-game-changing-partnership-for-fpx-nickel-418136830