SurgiMac, a NY-based supplier of medical, dental, and surgical instruments, has updated its catalog for Lower Manhattan clinics and hospitals to include premium SurgiMac-manufactured surgical instruments, engineered for increased durability and comfort.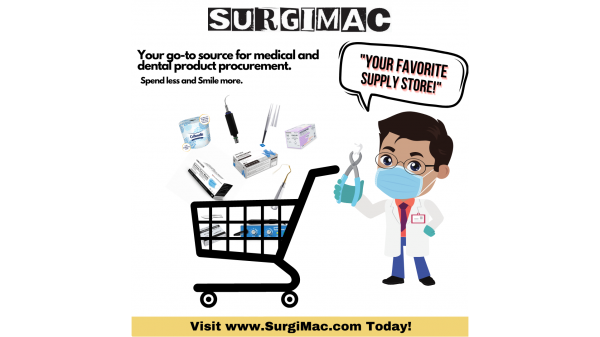 Merrick, United States - September 25, 2023 —
Licensed healthcare providers can now access a complete range of quality-controlled medical instruments, including those re-engineered and manufactured locally by SurgiMac, using this updated catalog of medical supplies and equipment.
More information about SurgiMac manufactured instruments, special rates for registered healthcare professionals, and a full list of available products can be found at https://surgimac.com/collections/medical-equipment-and-supplies
SurgiMac has partnered with a range of top medical suppliers from around the world, including PDI, Septodont, and Dynarex, to provide local healthcare professionals with fast access to trusted supplies. The full updated catalog includes medical, dental, and hospice supplies, which are available at special rates to registered healthcare professionals.
Using an in-house team of engineers and manufacturing specialists, SurgiMac has been able to make improvements to a range of popular medical and dental instruments. Combining their strict quality control standards and nationwide distribution system, this allows US-based professionals to access several new instrument collections, with same-day shipping for most orders.
SurgiMac has launched 7 distinct premium surgical instrument lines, each complying with their strict quality controls, and serving a unique purpose. This includes a new Slim Series of surgical tools, which have been re-engineered to use more compact designs, which provide additional comfort and accuracy for clinicians with smaller hands.
The Slim Series includes a total of 13 redesigned instruments, each available in a selection of sizes and colors, and with improved ergonomic handles for secure grip. This durable stainless steel collection includes explorers, excavators, dental probes, and polishers.
Healthcare providers throughout the USA can access SurgiMac-brand products and the full catalog of medical, dental, and surgical supplies, with same-day shipping for most orders at no additional cost. To access the full catalog at special rates, and same-day shipping on orders placed before Noon, EST, healthcare providers only have to register for a no-cost account on the SurgiMac website.
A SurgiMac spokesperson explained, "At SurgiMac, we are proud to offer healthcare professionals the highest quality surgical and dental products, all at a fraction of the original prices. Our manufacturing facilities make this possible, as they enable us to re-engineer products with the utmost attention to quality and detail."
More information about SurgiMac's re-engineered surgical instruments, same-day shipping, and registration for US-based healthcare providers can be found at https://surgimac.com/
Contact Info:
Name: Chris
Email: Send Email
Organization: SurgiMac LLC
Address: 10 Kees Place Suite C, Merrick, New York 11566, United States
Website: https://surgimac.com/

Source: PressCable
Release ID: 89108479
Should any problems, inaccuracies, or doubts arise from the content contained within this press release, we kindly request that you inform us immediately by contacting error@releasecontact.com. Our dedicated team will promptly address your concerns within 8 hours, taking necessary steps to rectify identified issues or assist with the removal process. Providing accurate and dependable information is at the core of our commitment to our readers.