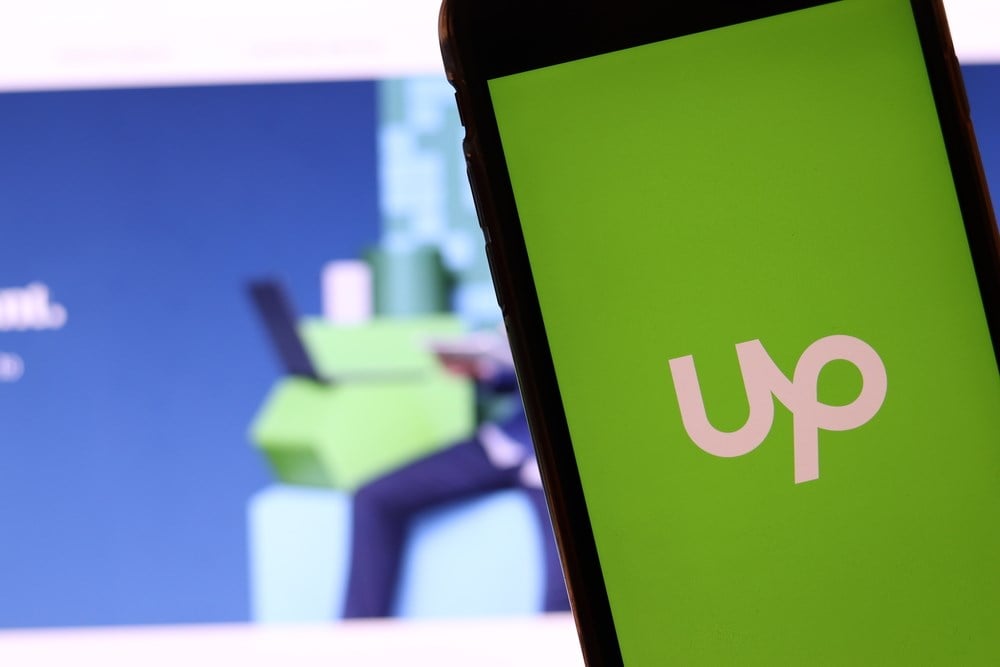 Shares of the world's largest business freelance platform Upwork. Inc. (NASDAQ: UPWK) exploded higher by more than 50% higher on its Q2 2023 earnings report. Upwork was formed from a merger between the two largest freelancer marketplace platforms, Elance and oDesk, in 2013.
Through cost cuts, workforce reductions and implementation of artificial intelligence (AI) powered tools, the company dramatically cut expenses while bolstering productivity. The company still had a GAAP net loss of $4.1 million, which was a vast improvement over the $23.8 million in Q2 2022.
AI Leading the Way  
Upwork has noticed the surge in demand for AI talent and has unveiled its AI Services hub connecting clients to highly skilled AI talent. The company also partnered with Microsoft Co. (NASDAQ: MSFT) partnered OpenAI to establish OpenAI Experts on Upwork, which provides pre-vetted talent that's highly experienced with OpenAI platforms.
Upwork seeks to establish itself as the AI talent destination beating out competitors like Fiverr International Ltd. (NASDAQ: FVRR),
New Pricing Schedule
Upwork saw its enterprise business uptick despite the uncertain macroeconomic climate after integrating a more simplified pricing plan. On April 26, 2023, Upwork replaced its sliding-scale service of 20%/10%/5% fee with a flat-rate commission of 10%. Upwork will honor the current 5% contracts until the end of 2023.
They also initiated a $4.95 client contract initiation fee on its Marketplace and Project Catalog.
Market Maker of Freelance
Upwork is a market maker by collecting fees from freelancers and the companies that hire them through the platform. While Upwork reduced some of its commissions, it's still collecting a hefty amount in other fees. Upwork takes a 10% commission from freelancers on each project and a $4.95 fee per contract initiation from the client.
The $4.95 fee offsets some of the reduced commissions, notably on smaller contracts. It also collects subscription fees from freelancers ranging from $5 to $49 a month, which enables access to premium jobs and priority customer support. It also collects placement and advertising fees.
It also collects commissions on Consultations which companies pay for booking preliminary sessions with talent ahead of potential hiring for large projects.
Accelerating Business and Cutting Costs
On Aug. 2, 2023, Upwork released Q2 2023 results for the quarter ending June 2023. The Company reported a non-GAPP profit of 10 cents per share versus consensus analyst estimates for breakeven. GAAP net loss was $4 million, but the adjusted EBITA was $14.4 million compared to a GAAP loss of $23.8 million and an adjusted EBITDA loss of $1.9 million in the year-ago period
Results were largely attributed to cost savings which the company expects to continue growing.
To adjust to weakening macroeconomic conditions, Upwork focused on cost reduction, which included trimming marketing expenses and reducing headcounts. The company also noticed a surge in AI-focused talent demand. It also implemented AI-powered tools for better matching talent and employers and modern generative AI tools to bolster talent work productivity and quality.
New Enterprise Clients
Revenues rose 7.5% year-over-year (YoY) to $168.6 million, beating consensus analyst estimates for $162.53 million. Enterprise revenues rose 16% YoY. The company grew its active clients to 822,000, up 2% YoY, with 19 new enterprise clients in the quarter. Gross service volume (GSV) exceeded $1 billion.
Some notable enterprise clients added in the quarter include Mastercard Inc. (NYSE: MA), R.R. Donnelley & Sons and Las Vegas Sands Co. (NYSE: LVS).
Raised Guidance
Upwork issued guidance for Q3 2022 for EPS to come in between 9 cents to 11 cents versus 8 cents consensus analyst estimates on revenues between $165 million to $170 million versus $165.73 million consensus estimates. Upwork raised its full-year 2023 EPS guidance between 36 cents to 39 cents versus 26 cents consensus analyst estimates. Full-year 2023 revenues are expected between $665 million to $675 million versus $661.33 million.
Upwork analyst ratings and price targets are at MarketBeat.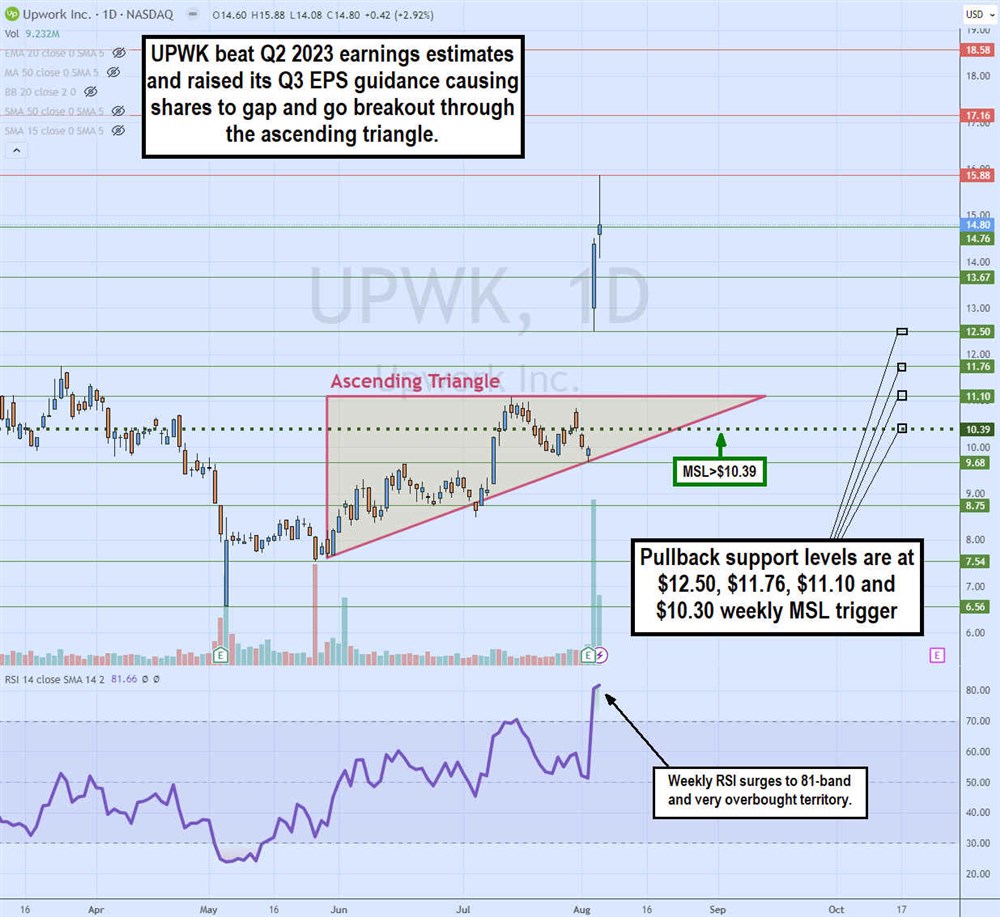 Daily Ascending Triangle Breakout
UPWK's daily candlestick chart has been in an ascending triangle pattern since $7.54, as it's been making higher lows represented by the ascending trendline. The flat-top horizontal resistance trendline is at $11.10. UPWK attempted to retest the flat-top when it triggered the daily market structure low (MSL) trigger break at $10.39 but lost its follow-through strength as it fell back on Aug. 1, 2023.
UPWK entered its Q2 2023 earnings release with shares testing the ascending trendline. The earnings beat resulted in a gap clear through the flat-top, forming a gap at $12.50 and went reaching $15.88 two-day highs before a reversion. The daily relative strength index (RSI) oscillator surged through the 70-band overbought range towards the 87-band.
Pullback supports are at $12.50, $11.76, $11.10 and the $10.30 weekly MSL trigger.