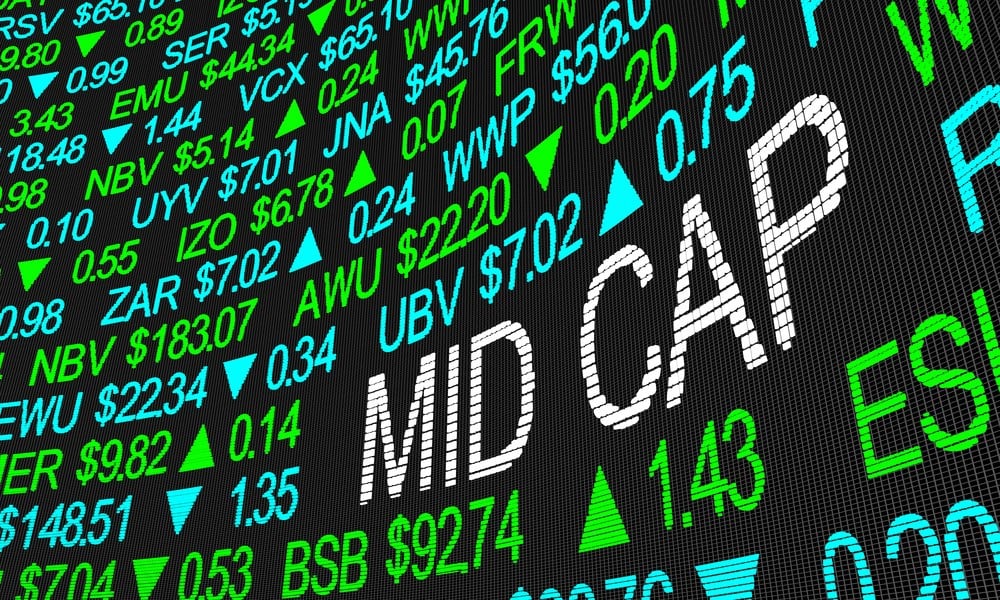 There have been plenty of headlines in recent weeks regarding the influence a few tech titans are having on the broader market rally that's underway, with some voices suggesting the S&P 500 would actually be down for the year if it were not for their outperformance. 
But that's not to say that there aren't opportunities in stocks outside of powerhouses like Apple Inc (NASDAQ: AAPL) or Meta Platforms Inc (NASDAQ: META). Below are three mid-cap stocks that will not have been on the radar for most readers but whose recent performance warrants closer inspection and consideration. Let's jump in and see why.
First up is Akero, a $3 billion biotech based in San Francisco. Like many of their peers, their longer-term chart reflects the ups and downs that more experienced biotech investors will be accustomed to, as unknowable trial results and FDA comments largely dictate how the stock performs. But looking at how Akero's shares have performed in recent sessions, it's easy to tell that a recent catalyst came out on the positive side. 
Akero's shares have jumped as much as 25% since the start of the month after management highlighted the potential of its liver disease therapy. EFX, when used alongside a popular weight loss drug class. Their Phase 2b study showed that EFX combined with GLP-1 led to a 65% reduction in liver fat, compared to a 10% reduction with GLP-1 alone. Safety results were comparable between the groups, and there were no serious adverse events related to the drugs.
Akero has been one of the best-performing mid-caps this week as a result, and while shares cooled somewhat in yesterday's session, they're less than a 10% move from all-time highs. And the best part? Akero has several more key catalysts on the 2023 roadmap that should draw in further volume on the bid. 
Shares of C3.ai have been trading with massive volume in recent weeks, with enough of it on the bid to send them up more than 100% since the start of May. Considering how hot a topic A.I. has suddenly become, it's perhaps not all that surprising. With one of the most market-appropriate tickers in the business, C3.ai is well on its way to reversing the downtrend that's plagued shares since February 2021. 
With a $4 billion market cap, they bill themselves as a leading Enterprise A.I. software provider for accelerating digital transformation, with banner customers such as Shell, Koch, and the U.S. Air Force already signed up. Even with yesterday's 5% dip, the stock is up 250% since the start of the year, and there's every reason to think it will continue to benefit from the red-hot A.I. name. 
Investors looking to gain exposure to a lesser-known but heavily A.I.-focused name could do a lot worse than C3.ai. Look for shares to consolidate in the $30s after their recent rally before pushing on toward $50. Remember, this is a stock that soared to almost $200 during the heady days of 2020, and the wider AI-specific rally is really just starting now.  
Last up is Joby, a $4 billion new-age aviation tech company focused on developing electric vertical takeoff and landing aircraft. Their shares have jumped as much as 80% since April, with this week alone seeing gains of more than 10%. 
While much of their work is still in the theoretical and exploratory phase, Joby has already secured contracts with both Toyota and the U.S. Air Force, proving that their path to commercialization is well underway. In fact, their $55 million contract with the latter will see them delivering nine planes starting early next year. 
Last month's additional $180 million raise will have only boosted their R&D capabilities, and they have almost no competitors. This first-mover advantage reminds us of Tesla Inc (NASDAQ: TSLA) in the electric vehicle space, and we're all familiar with how much of a tailwind that's been for the stock. When it comes to getting in on the ground floor of an industry-defining stock, it doesn't really get much better than this.