VANCOUVER, British Columbia, April 06, 2023 (GLOBE NEWSWIRE) -- Tearlach Resources Limited (TSXV: TEA) (OTC: TELHF) (FRANKFURT: V44) ("Tearlach" or the "Company") is pleased to announce the completion of its Phase 1 drill program at the Gabriel Property in Tonopah, Nevada. The Company has also filed a NI 43-101 Technical Report related to the property. Furthermore, Tearlach's geologic team has reviewed the assays for duplicate samples from the property and found that the results were, on average, 29% higher than the original Blackrock Silver Corp.'s ("BRS") assays. As a result, a check-assay program will be conducted on drill hole sample pulps from selected BRS holes to expand the geographic distribution of drill hole data suitable for resource modeling. Tearlach is pleased with the progress made on the Gabriel Property and remains committed to advancing its exploration and development activities.

Highlights:
Completion of a NI 43-101 Technical Report on Gabriel Property.
Completion of Phase 1 drilling, 11 holes and 3939 feet (1200.6 meters) at Gabriel.
Plan to re-assay BRS pulps from the previous drill program, with data to be included for a future resource estimate.
Re-assaying the BRS drill sample pulps saves Tearlach the considerable cost of re-drilling those holes for resource estimation purposes.
This re-assay data provides an opportunity for grade and volume increase of the mineralized zone.
Reassaying the BRS drilling data provides Tearlach with a cost-effective solution, eliminating the need to undertake costly redrilling activities for estimation purposes. This approach allows the Company to leverage existing data and optimize resources to advance its exploration and development activities.
Mr. Robert J. Kellie, a Registered Member of the Society for Mining, Metallurgy and Exploration, Inc., has authored the Technical Report for the Gabriel Property in Tonopah, Nevada. As an Independent Qualified Person under the National Instrument "43-101", Mr. Kellie brings over 30 years of experience investigating a wide range of mineral deposits, including lithium deposits hosted in evaporite, chemical precipitate, and clay formations. Based on his expertise, Mr. Kellie has concluded that "the Gabriel Project holds significant potential for expansion and the possible definition of lithium mineral resources through further drilling." He affirms that the project's quality is favorable, making it a promising site for exploration and development activities.
Tearlach has completed a Phase 1 core drilling program on the property, which significantly conforms to the exploration program recommended by Mr. Kellie. Core holes have been drilled to: 1) twin Li-mineralized Blackrock Silver (BRS) reverse-circulation rotary holes (RC) (5 holes), and 2) step-out from BRS RC holes throughout much of the Gabriel land position (6 holes).  Initially, the step-out program for the Gabriel Property in Tonopah, Nevada, was designed to have a hole spacing of 500 meters. However, halfway through the drilling process, the program was modified to have a spacing of 1,000 meters. This decision was based on a review of resource classification criteria that were applied to other lithium-claystone projects in close proximity to Gabriel. The modification was made to optimize the exploration program and ensure that the drilling process aligns with industry-standard practices for resource estimation.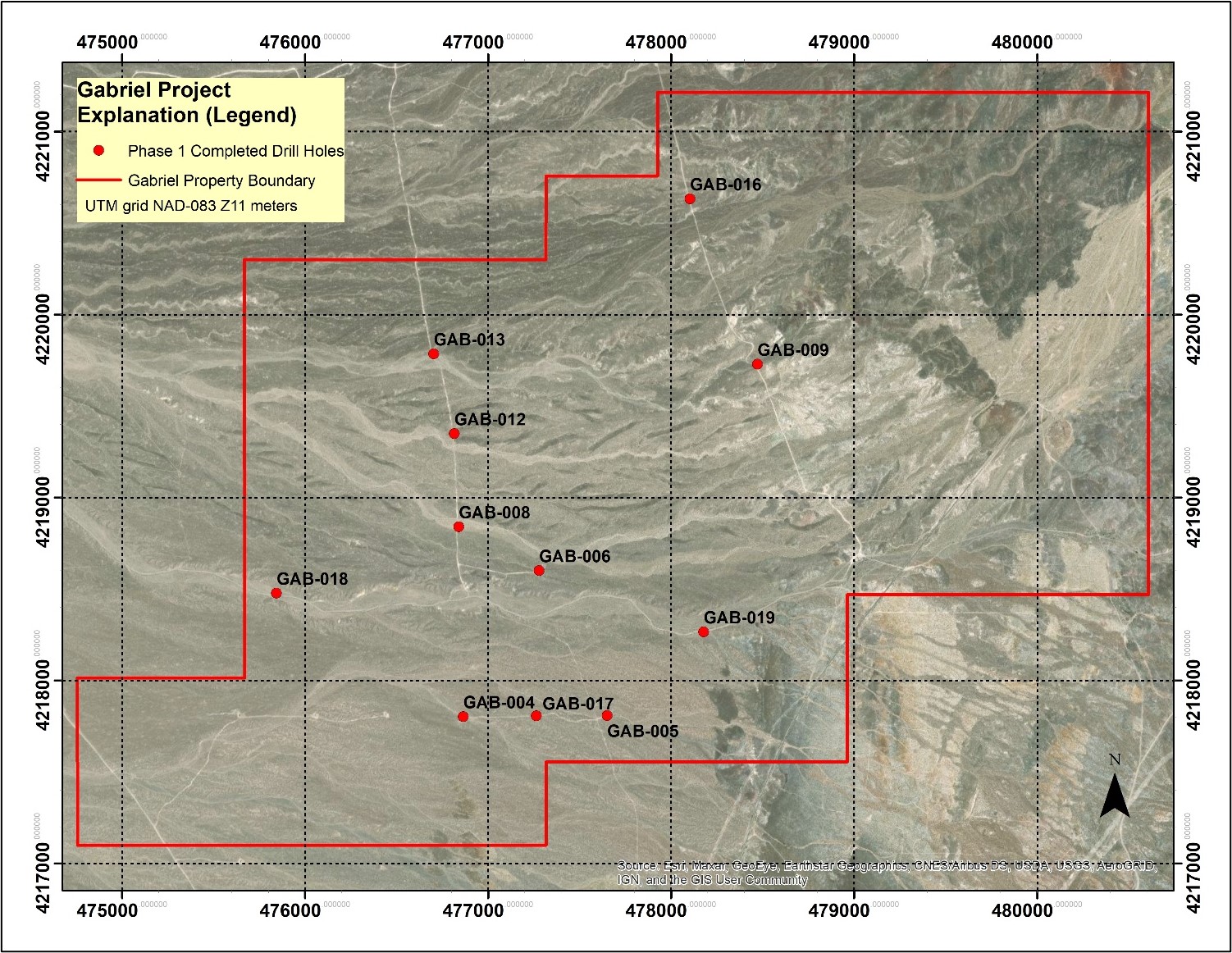 Figure 1: Gabriel Drill Map
All Gabriel Phase 1 core holes intersected favourable claystone stratigraphy (see photos below) of the Siebert Formation. As reported in neighbouring properties, lithium mineralization is hosted in similar stratigraphy, as summarized in the newly published NI 43-101 Gabriel Technical Report. Most of the Gabriel holes intersected an upper claystone (average 165 feet / 50.3 meters thick) and a lower claystone horizon (average 25 feet / 7.6 meters wide). The depth of young alluvium overlying the upper claystone horizon is approximately 30 feet (10 to 65 feet below the surface).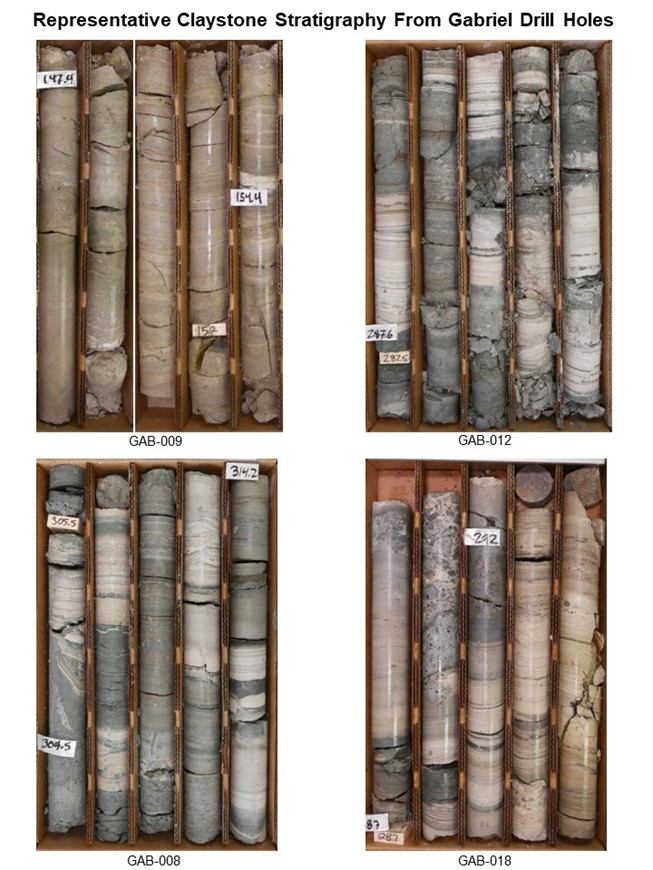 "This is an exciting and transformative time for Tearlach as we eagerly await the results from our first ever drill program on the Gabriel Project in Nevada. Not only did we drill to confirm the original Black Rock Silver holes but we completed a number of large distance step outs to gain a better understanding of the potential size of the mineralized zones. Our Geological team in Nevada played a key role in minimizing the drilling footprint by using modern mineral resources estimate standards to modify the hole spacing, resulting in a reduction of the number of drill holes required for a resource estimation. We are optimistic about the potential of the Gabriel project to not only drive value for the shareholders and look forward to receiving the assay results from the program. We remain committed to advancing the exploration and fast-track development of the Gabriel Project," states Morgan Lekstrom, CEO.
Qualified Person:
Mr. David Flint, CPG with AIPG., Director of the subsidiary Pan Am Lithium (Nevada) Corp, and a Qualified Person as defined by National Instrument 43-101 – Standards of Disclosure for Mineral Projects, has reviewed and approved the scientific and technical information contained in this news release.
About Tearlach:
Tearlach, a member of the TSX Venture 50, is a Canadian exploration company engaged in acquiring, exploring, and developing lithium projects. Tearlach has a Joint Venture agreement with Blackrock Silver on the Gabriel project in Tonopah, Nevada, bordering American Lithium's TLC Deposit, and has completed 11 drill holes on the Gabriel Property. Tearlach has three lithium assets in Ontario: Final Frontier, Georgina Stairs and New Frontier. Final Frontier is located adjacent to and near Frontier Lithium's PAK lithium deposit north of Red Lake. Georgina Stairs is located northeast of Rock Tech Lithium's Georgia Lake deposit near Beardmore. Tearlach has two lithium assets in Quebec: Rose-Fliszar-Muscovite Project in the James Bay area and Shelby Project adjacent to and near Patriot Battery Metals' Corvette lithium project and Winsome Resources' Cancet and Adina lithium projects. Tearlach also has the Savant Property, an exploration stage Gold-Silver-Copper Property, in Northwestern Ontario. Tearlach's primary objective is to position itself as North America's leading lithium exploration and development company. For more information, please get in touch with the Company at info@tearlach.ca or visit our website at www.tearlach.ca for project updates and related background information.
ON BEHALF OF THE BOARD OF DIRECTORS,
TEARLACH RESOURCES LIMITED.
Morgan Lekstrom
Chief Executive Officer
Suite 610 - 700 W. Pender Street
Vancouver, BC, Canada V6C 1G8
Tel: 604-688-5007
Follow us on Facebook, Twitter, and Linkedin.
Forward-looking statements
This press release contains forward-looking statements and forward-looking information within the meaning of Canadian securities laws (collectively, "forward-looking statements"). Statements and information that are not historical facts are forward-looking statements. Forward-looking statements are frequently, but not always, identified by words such as "expects", "anticipates", "believes", "intends", "estimates", "potential", "possible" and similar expressions or statements that events, conditions or results "will", "may", "could" or "should" occur or be achieved. Forward-looking statements and the assumptions made in respect thereof involve known and unknown risks, uncertainties, and other factors beyond the Company's control. Forward-looking statements in this press release include statements regarding beliefs, plans, expectations or intentions of the Company. Mineral exploration is highly speculative and characterized by several significant risks, which even a combination of careful evaluation, experience and knowledge may not eliminate. Forward-looking statements in this press release are made as of the date herein. Although the Company believes that the assumptions and factors used in preparing the forward-looking statements in this press release are reasonable, undue reliance should not be placed on such statements. The Company undertakes no obligation to update publicly or otherwise revise any forward-looking statements, whether as a result of new information or future events or otherwise, except as may be required by law.
Neither the TSX Venture Exchange nor its Regulation Service provided (as that term is defined in the policies of the TSX Venture Exchange) accepts responsibility for the adequacy or accuracy of this release.
Photos accompanying this announcement are available at:
https://www.globenewswire.com/NewsRoom/AttachmentNg/41dfb7d4-a5af-49a2-9f1b-48859ff864a1
https://www.globenewswire.com/NewsRoom/AttachmentNg/ce75d521-a2ad-49eb-b220-8850525dcf23